Posted by Lori White, Jo Lindsay on 18th Nov 2016
"The Women Out West Awards foster recognition of women throughout the Orana, Central West and Far West regions of New South Wales who live remarkable lives, inspiring others … and celebrates their achievements and contributions, including those not usually recognised by other Award programs" – when something encompasses so many virtues we believe in and strive for we simply couldn't imagine not being a part of it!
Living in the very unique – but somewhat remote – west that we do, we understand the challenges women out this way can encounter. Organisations like Women Out West (WOW) provide a forum (a haven, if you will) for regional women to network, share, learn, develop and experience life together on both a personal and business aspect. That's why Lost Sea Opals is proud to be a sponsor of the WOW Awards.
Event details:
Event: Women Out West (WOW) Awards for Outstanding Women
Date: Saturday 26th November 2016
Venue: Dubbo RSL Auditorium, Brisbane Street, Dubbo NSW
Attendance: 250+
Established by the WOW Board in 2010, hundreds of inspiring regional women are nominated for these awards each year. We can't wait to hear the deserving winner of the "Lost Sea Opals Award for Outstanding Inspirational Leadership – bringing out the best in others" announced! This award will go to "a woman who demonstrates visionary leadership that brings out the best in others through inspiration and collaboration" – just wow.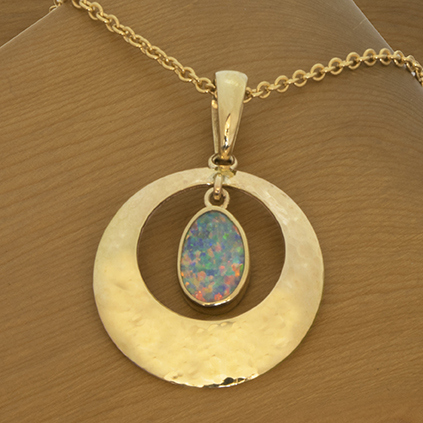 In addition to sponsorship, we are donating the "Golden Blaze" pendant – a 9k gold piece from our Lost Sea Opals signature collection, featuring Lightning Ridge opal valued at $1,795.
"A disc of gold, artfully hammered to recreate the natural pattern of rippling sands, surrounds a rare, confetti coloured, Lightning Ridge opal. This pendant makes a stylish yet timeless statement.Includes 9k gold cable chain, 45cm length."
We at Lost Sea Opals are so looking forward to this special event, if you want to take part or would simply like to know more, contact:
Women Out West
PO Box 640
Dubbo NSW 2830
General enquiries: wow@wownetwork.org.au or 02 6882 1425
Event enquiries: rsvp@wownetwork.org.au or 02 6882 1425
Or visit the WOW website: http://www.wownetwork.org.au
The awards night will be held at Dubbo, RSL Auditorium, on Saturday, November 26.
https://www.facebook.com/womenoutwest/