When Darren, a local opal miner, " tailed out", he like most miners, was happy to have some "nobbies" with Gem colour and a few potential stones. It was not until later when his girlfriend Emily was going through the "tailings" that he knew he had found the gem of a life time. Emily had found a small "pea nobbie" with a perfect capitol letter "E" in orange on a green background. They were both stunned by the find and Emily naturally claimed it as hers for a piece of custom jewellery.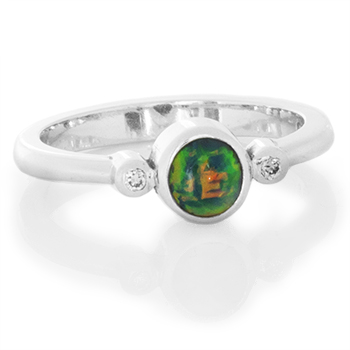 In opal-speak they are known as picture stones and are extremely rare.
Like the true Opal miner he is, Darren had a plan, and when he walked through the doors at Lost Sea Opals we also knew from his "grin from ear to ear" that something special was about to happen.
A ring design in white gold with a high bezel to show off the "E-stone" complimented by a bright Diamonds either side was decided upon.
The finished piece is this delicate, amazingly rare item of jewellery, made even more special by the fact that it then became a very personalised engagement ring. (The grin gave it away).
Good luck to them both and Darren we hope you find the rest of the alphabet!