It's possibly the most important and meaningful piece of jewellery a person may ever wear in their entire life…. Yes!.... It's the iconic engagement ring!

Recently at Lost Sea Opals we have had the great privilege of being asked to create more than one beautiful engagement ring.
Bringing a design to life is always fun, but in the case of this first design, it was extra exciting as it was a complete surprise for the recipient and we worked closely with her partner through the entire design process. To top it all off we had an in house proposal, to the emotional delight of all of us here in the studio.
Recommendation: "Incredible Service / Stunningly Beautiful Outcome.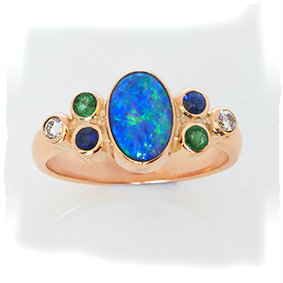 My partner and I were recently privileged to have Lost Sea Opals (Jo Lindsay) design a bespoke black crystal opal with surrounding precious gems Engagement Ring.
As it was to be a surprise Proposal, I had to design the ring from go to wo without my partners knowledge or input. Jo and her team were incredibly helpful right throughout the process, taking away any of the stress. The final product was even more beautiful than what I had hoped, and my partner loved it from the minute she saw it. I surprised her and Proposed in the Lost Sea Opal store, and thankfully she said yes!

The service, design expertise, quality and value for money that Lost Sea Opals / Jo offers are outstanding and we would have no hesitation recommending them to anyone who appreciates the beauty of opal jewellery...."

Steve & Isabel
Cremorne, Sydney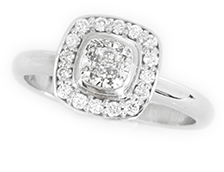 A Diamond Halo is such a stylish choice for an engagement ring, and this example really shows why, beautiful!
The customers' original Diamond engagement ring was lost and despite lengthy searching and retracing of steps it was not to be found. Sometime later her white gold band minus the crown and diamond was found in the front yard. Unfortunately the lawn mower had found it first and so the re-modelling had begun!
The initial process revolved around the sourcing of the main stone (a 0.43ct square, cushion cut diamond) once the design was finalised, we set about the refurbishing of the band, then setting the dazzling centre stone and completing it with 16 x 1.5mm brilliant cut diamonds in the surrounding white gold halo.
A matching wedding band was created to accompany this stunning piece and it was a real treat to have redesigned and reunited these most precious items.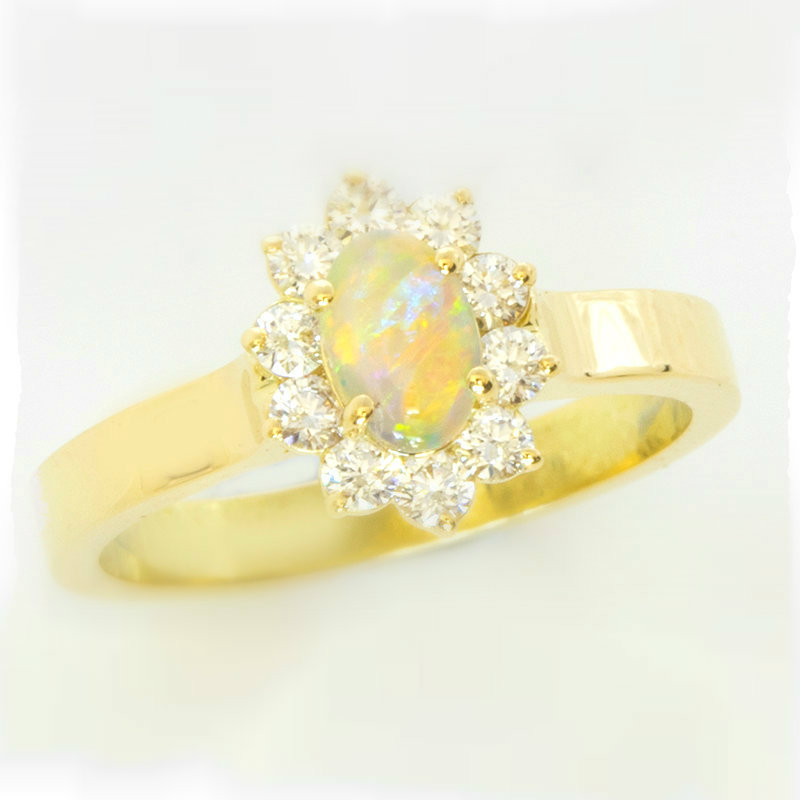 This local customer was after a timeless, classic design and we adore the outcome using the combination of opal and diamonds.
A simple gold band and prong settings allow the precious gemstones in this piece to really pop.
It's a popular choice for Lightning Ridge locals to use opal in their engagement rings and we are finding more and more visitors are enquiring about this themselves.
We have had so much fun on these meaningful pieces and we welcome more custom orders - we can source any cut of diamond you desire and will design a piece just for you (just to make that special moment even more magical). We can also create mens' wedding bands from the basic through to embellished.
For enquiries contact Jo call (02) 6829 0066 or drop by the showroom today.