It's always great to get behind great local causes, but occasionally something REALLY stands out as being special - that was the case when we decided to sponsor the GIFT (Growing Independence For Tomorrow) Group.
GIFT is a non profit organisation made up of local students (and their very supportive parents!) who are sending a group of Lightning Ridge secondary students to Nepal in 2016. These students will be working alongside Nepali teachers to help advance the English language skills of students in the remote area of Chitwan.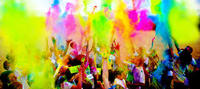 A major fundraising event for the Group will be the Flying Colours 5km Fun Run held September 19th, but don't let the word "run" put you off - running, walking, dancing, any form of movement is acceptable to get around the course!
For more information - or better yet, to register - visit their official website www.lightningridgecolourrun.com or give them a like on Facebook to keep up to date with the latest news.