Easter is always a hotly anticipated time of year for Ridge locals - it hails the start of the tourist season and we enjoy seeing the town come alive with travelers once again. It also means it's time for the famous Lightning Ridge Easter Festival! The festival has evolved over the years and this year was a smashing success enjoyed by all.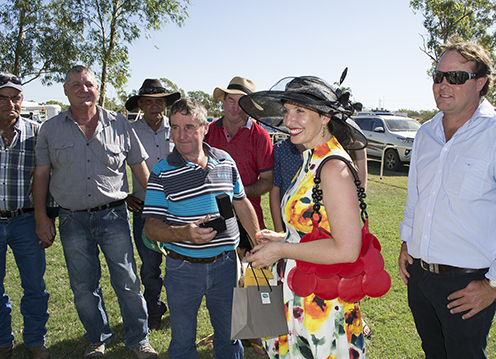 The vans, cars, utes and bikes stared rolling into town as early as the Monday, all ready for the Festival to kick off with the Black Opal Bull Ride on Friday night. This was the second year running the event (being rained out one year also) and the committee was ecstatic to see such a great turn out and a smooth night.
Our favourite day of the weekend is always the Saturday and this year saw the return of some fabulous street stalls (opal, gifts, food, entertainment) and the fun Ridge themed events with the Miners Rickshaw Challenge, Kids Dig, Strength Challenge and the Big Dig. We also saw large crowds through Lost Sea Opals which is always fun when people are so enjoying their long weekend.
Our favourite event is without a doubt the midday Horse Races - who can blame us when there's the opportunity to get frocked up, showcase a Lost Sea Opals designed and made opal bracelet trophy and sponsor Fashions on the Field!
The Dale Bruce Memorial Opal Bracelet Cup Race was won by Dabamirak, trained by Paddy Cunningham from Glen Innes and jockied by Tiffany Jeffries. It was lovely to see the opal bracelet finally awarded after a rained out year.
Pictured above right: Jo Lindsay of Lost Sea Opals with co sponsor Aaron Bruce awarding the opal bracelet.
Lost Sea Opals was proud to once again sponsor the Fashions on the Field "Classic Lady" category with Rhonda Bradley from Walgett taking out the coveted title this year. The beautifully dressed Rhonda was delighted to take home the solid sterling silver bangle, ring and earring set valued at $550.
On a side note, we would like to congratulate Lost Sea Opals very own Franka Friedrichs for taking on the epic role of Easter Festival Coordinator with her partner Petar, and making the event an absolutely roaring success. Well done Franka, we are all so proud.