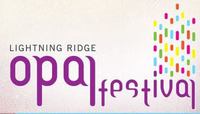 What could be better than a four day long celebration of opal boasting a packed calendar of events and attractions? Not much we say! Which is why we so love the Lightning Ridge Opal Festival and all it brings.
This year the Festival is running from July 31st through August 3rd and promises to be just as magical (if not more) than previous years. Drawcards include the Stallholders Wine & Cheese Night, 4 days of the Opal & Gem Expo with over 120 stalls (selling everything from gemstones and lapidary supplies to mouthwatering food from around the world and lifestyle products), live entertainment at the Lightning Ridge District Bowling Club and the famous Lightning Ridge Opal Queen.
This year Lost Sea Opals is proud to be sponsoring the lucky door prize at the Opal Queen event Saturday 3rd August. Doors open at 7:30pm and tickets cost $25 (this includes a complimentary glass of Treasury wine, entertainment and, of course, your lucky door ticket!) The lucky lady crowned 2014 Opal Queen will win a prize pack valued at over $10,000.00 and, more importantly, act as Lightning Ridge's opal industry ambassador at important events throughout the year.
If you're going to be in Lightning Ridge for the Opal Festival, Lost Sea Opals will be open for the entire weekend. Visit our showroom, view our stunning opal & fossil collections, have a chat to our staff and delve into our wealth of knowledge on all things opal!
Pictured: 2014 Lightning Ridge Opal Festival logo courtesy of www.lightningridgeopalfestival.com.au