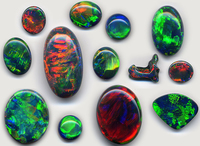 DID YOU KNOW?

For those lucky enough to be born in October, OPAL is the traditional birthstone.
What better way to celebrate a birthday than with this gorgeous gem?
We always have a spectacular collection of opals on display at Lost Sea Opals, whether you celebrate your birthday this month, know someone who does, or just want to stop by and see what all the fuss is about, we'd love to see you.

Pictured right: a beautiful collection of black opals.