As a business house we've supported and donated to many causes over the years - however it's not too often we've ever seen a combined prize pool quite as large as the Weengallon Pink Ladies Day Raffle!
We were humbled to have been one of over 40 contributors to a massive raffle which aimed to (in addition to the days other events) raise over $30,000.
With prizes from gift vouchers and pamper packs to wine and holidays, Lost Sea Opals contributed a 9ct gold hand crafted pendant valued at $1,500 featuring, what else but, a pink opal.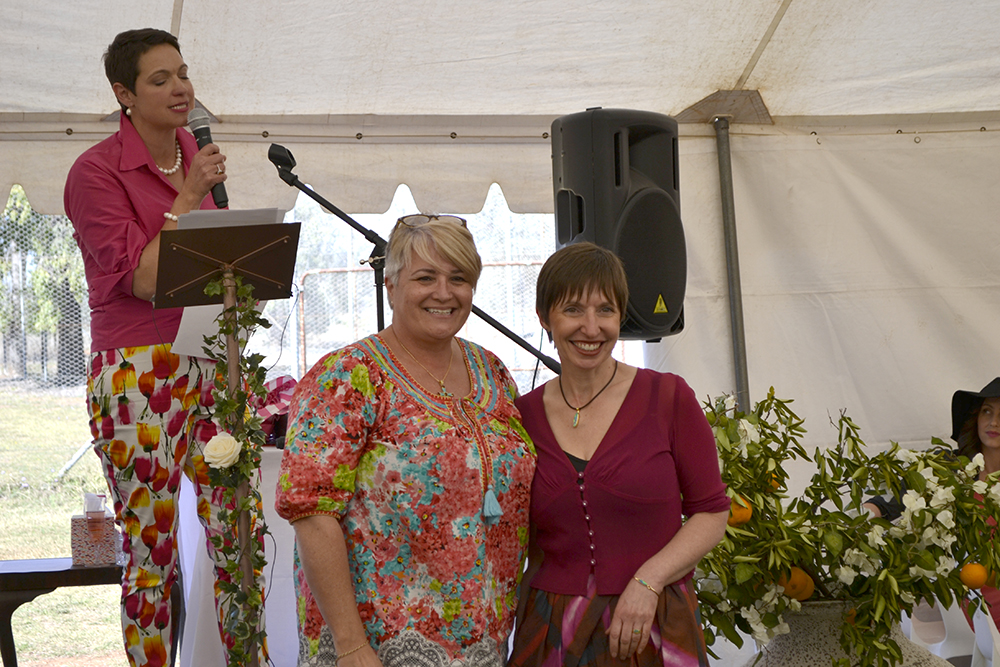 Left: Lost Sea Opals designed and created pendant for the Weengallon Pink Ladies Day Raffle 2015
Right: Lost Sea Opals leading lady Jo Lindsay with the winner of the pendant
Reading up about the event prior, it certainly sounded fantastic (also a lot like a logistical nightmare for the organisers to be honest!) It turned out to be even more awe inspiring and utterly enjoyable that we could have possibly imagined.
The trip for us from Lightning Ridge took about 3 and a half hours - which turned out to be nothing compared to 2 days traveling some guests undertook to be there. Upon arrival to the usually quiet little village we were met with a country fair style setting, the 600 strong crowd soon added to the atmosphere.
The guest speaker, Dr Sally Johnstone, finished to a crowd full of teary eyes - of which the fun of the auction soon dried up! (Have you ever seen someone bid $700 to have their name embroidered on an apron?)
A personal highlight of the day for us was catching up with a lovely excited lady who was wearing the opal ring her husband had bought her 5 years ago in our shop! Hearing that she "never takes it off" - it's these comments that make an enjoyable job even more so.
We would like to thank the Weengallon Pink Ladies Day for inviting us to take part in their special event, if you would like more information on the day please visit their website www.pinkladiesday.com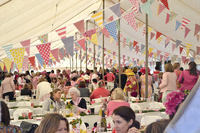 Pictured: Inside the marquee at the Weengallon Pink Ladies Day Lunch.